2012 Hedgepeth-Bass Family Reunion
"Faith, Family and Fitness"
We are proud to host the 2012 Hedgepeth-Bass Family Reunion in Atlanta, GA July 5th-8th 2012!
Atlanta
is the vanguard of the New South, with the charm and elegance of the Old. It is a city that balances southern traditions with sleek modernism. In Atlanta, the peach trees are plentiful and the tea is sweet, yet this city boasts three skylines and the world's busiest airport. Atlanta was host to the 1996 Centennial Olympic Games, gave birth to
the
greatest figure of the civil rights movement, is the beloved capital of the state of
Georgia
, and has become the enduring leader of the American
South
.
Lodging-Hotel Accommodations: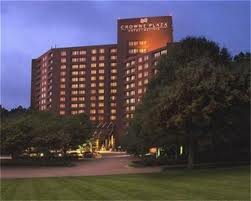 There are two methods provided to secure your hotel reservation:
2) Phone: 888.233.9527 (Booking Code: HedgepethBass Family Reunion)
Crowne Plaza Hotel Atlanta Perimeter at Ravinia
4355 Ashford Dunwoody Road
Atlanta, Georgia 30346
Room Rate: $99 per night + tax ($11.88)= $110.88 (single and double occupancy)
*Early check-in and late check-out is based on availability.
**For those family members who would like to come in early or stay late...this hotel room rate is valid Thursday-July 5th thru Monday July 9th
***A complimentary shuttle is available to pick-up/drop-off guests at the MARTA train station, local mall, shopping areas and restaurants
Reunion Registration & Fees (include picnic and semi-formal/formal banquet):
$85 per person ages 11 and up

$65 per person ages 4-10

Free (young children; ages 3 and under)
Registration and Payment Options:
The registration deadline is June 1st, 2012.
For your convenience there are two payment methods
1) REGISTER ONLINE! It's Easy! Online Payments via Debit/Credit Card (Full payments and partial payments can be made online)
2)
If you do not choose to register online, Please print and mail your registration form and check or Money
Order payable to: Hedgepeth Bass Fund (CLICK HERE TO ACCESS THE REGISTRATION FORM)
Mailing Address: Hedgepeth-Bass Family Reunion
Attn: Kim Whitaker
P.O. Box 767934
Roswell, GA 30076